Power Talk Friday – LuAnn Nigara- The Things I Learned From A Well-Designed Business- Part 2 of Design Bloggers Conference Presentation
Episode 168 of A Well-Designed Business
®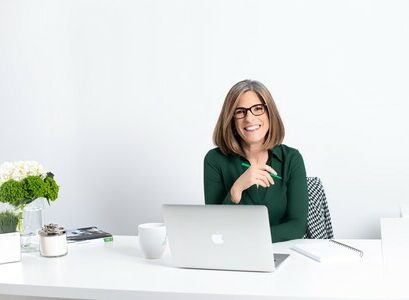 In today's Power Talk Friday, I'll continue with the second half of the Design Bloggers Conference Summary series. I'm covering the top lessons that I've learned through podcasting about interior design. Last week, we went over the first three lessons #165.
The other shows include Claire Staszak and Kelsey Grose this past Monday and Wednesday and this coming Monday will be Amber Lewis. All 3 interviews had some terrific advice for design blogging as well as running your firm and building an audience on Instagram. Three truly smart ladies! Today, we'll cover the rest.  Join me now with The Things I Learned From A Well Designed Business Part 2!
#141 Jim Riviello says that we need to change our way of thinking about things in order to be successful. Jim, a business coach and the owner of Leadership X University, explains that we need to Be-Do-Have, not Have-Do-Be. In today's show, I will clarify this powerful explanation.
#21 Stacy Garcia took a leap of faith and decided to invest in vintage wallpaper and fabric as a starting point for creating a new textile line for the hospitality industry.
#55 Rachel Moriarty heard about Facebook Live and the rest is history.
#128 Grace McNamara was an Advertising Director, thirty-one years old and with no idea of how to run a magazine, was given 24 hours in which to decide if she would buy two magazines. Despite huge fears, she jumped into it and became an entrepreneur and a magazine publisher.
Sarah Daniele came up with an idea and turned it into a software program.
#79 Anna Brockway-Chairish saw a need in the marketplace and built a huge company, filling a gap in services.
#85 Heather and Mark used tech to offer truly professional Interior Design at a level of excellence, affordable for the masses. Nous Decor was born- however, in running Nous Decor, she has another business- how to scale Nous Decor.
Interior Design Is A Business First
#2 and Sandra Funk House Of Funk
#36 Susan Brunstrum
#24 #45 #60 #81 #150 Krista Coupar
How to bill out using hourly fees.
Managing work-life balance from a financial perspective.
Build your story and your brand.
Things to look at when planning your new work year.
#71 Dr. Ellen Fisher- Ellen cautions us about the main reasons that Interior Designers have trouble being profitable:
Undervaluing your time.
Not charging for the hours you work.
Not recognizing how to keep your pipeline filled.
Not placing enough emphasis on marketing.
Ellen's advice to new graduates:
Stay connected to the passion that brought you to the field throughout your career, not just in the beginning.
Be prepared for hard work. The business of interior design is tough and while outsiders may not recognize it, it is truly as hard as any other career.
Ellen's advice when hiring interns and junior designers for your firm:
Set tangible goals and objectives for the tenure.
Teach, train, monitor and evaluate performance.
"Fuzzy objectives = Fuzzy experience."
#6 Erika Ward- Erika attributes her success to her expertise and knowledge in Business Management. She advises:
Educate yourself about Business Management.
Do everything you can to broaden and enhance your business acumen.
This will ensure a proper foundation for a profitable business, allowing you to explore your talent, create fantastic spaces for your clients and explode your Interior Design business.
Links:
Jim Riviello: https://lxu.training/