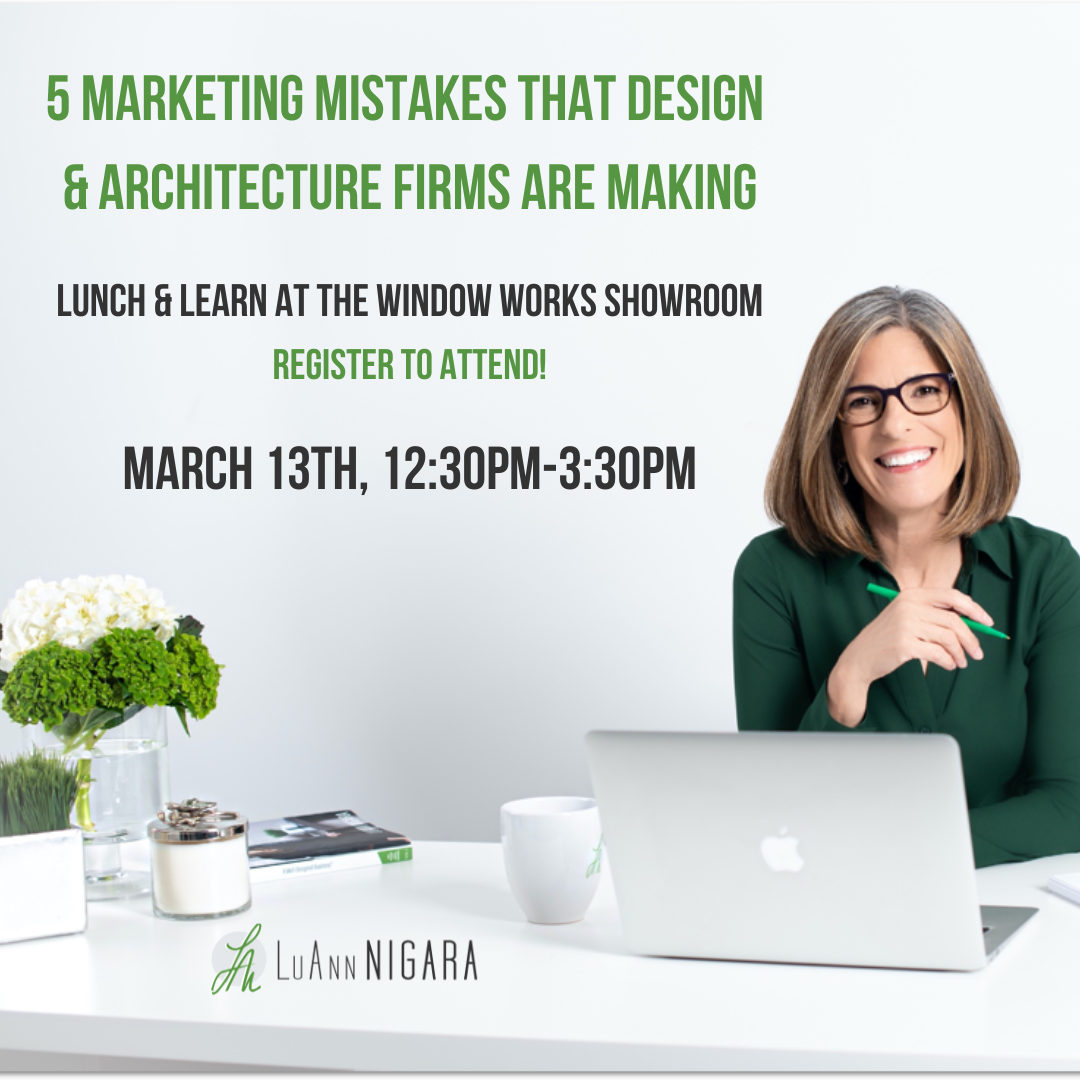 Livingston, New Jersey
March 13th 12:30pm-3:30pm ET
5 Marketing Mistakes that Design & Architecture Firms Are Making – And How To Avoid Them
Register now

 for this Lunch & Learn hosted by Window Works and LuAnn Nigara on March 13th, from 12:30pm-3:30pm.



Is your design or architecture firm making these 5 marketing mistakes? Join LuAnn Nigara at the Window Works Showroom for a Lunch & Learn to find out what these common marketing mistakes are, and how to avoid them to keep your pipeline full!
Registration is required for this in person event, taking place at the Window Works Showroom in Livingston. Come have lunch with Lu and the Window Works team on March 13th from 12:30pm-3:30pm for this fun afternoon!
Register Now
Charlotte, North Carolina
April 19-21, 2023
3 CEU CREDITS
(The highest profit margins are in the luxury level of the window treatment market, but how do you attract this market? Learn how.)
LuAnn has 40 years of experience selling both to the luxury consumer, as well as the luxury designer. Learn the best strategies for attracting, as well as serving, this segment of the marketplace. Increase your gross sales and your gross profits.
Learning Outcomes:
Learn how to attract the luxury consumer and the luxury designer
Learn keys for creating an experience they will return for over and over again
Learn quoting, pricing and servicing strategies
Register Now
Charlotte, North Carolina
April 19-21, 2023
(Understanding your benchmark numbers is critical to operating a profitable business.)
Join Vince as he walks you through everything from how much your owner package should be to how much you should invest in marketing, in employee compensation packages, all the way to what your profit margins should be.
When you learn the numbers, you can lead and manage your company with confidence and strategy.
Learning Outcomes:
Learn the milestone numbers and how to use them
Use the data in your numbers to make sound decisions, no more guessing
Learn what your total employee compensation packages should be
Register Now