Power Talk Friday: Darla Powell: Instagram for Interior Designers
Episode 861 of A Well-Designed Business
®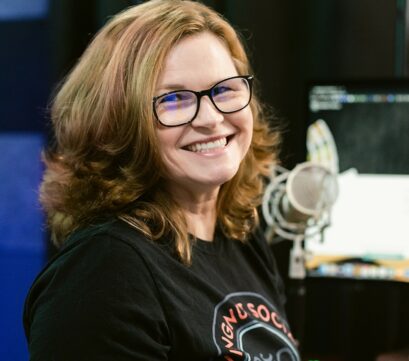 Today With Darla Powell:
Today on A Well-Designed Business I am joined by Darla Powell of Wingnut Social. If you're an avid listener of the show, you know how much of a social media guru Darla is. Now, she has come out with a course called Instagram for Interior Designers which consists of everything you would learn about Instagram if you were to personally pick her brain.
Pick It Apart
[10:13] Darla tells us about her new course Instagram for Interior Designers.
[23:20] The importance of knowing yourself and your value proposition before tackling your social media strategy.
[31:00] Why you need to have your ducks in a row, for example having your website in order.
[35:20] LuAnn and Darla talk about module two of Instagram for Interior Designers.
[53:25] Wingnut's specific impact on client Anne Gillyard's business grOH! Playrooms.
[59:25] How we can get the Instagram for Interior Designers course.
LuAnn Nigara and Darla Powell's Ah-Ha Moments
"It's a no-brainer to me. You can't not be investing in marketing. It's a key component to business" – LuAnn Nigara
"You have to lock in your value proposition before doing anything, otherwise you're just throwing stuff at the wall and hoping it sticks." – Darla Powell
"Regardless of what your marketing budget is, start small." – Darla Powell
More About Darla Powell:
Darla Powell is more than just an award-winning interior designer, podcast host, social media speaker, and former police detective.
She's also an adept unraveler of marketing secrets.
Her down-to-earth style delivers smart, actionable information that's relevant to real business owners—because she is one.
Topics range from social media mastery (what really engages followers—it's probably not what you think) to how to build your brand from the ground up (how did she go from retired cop to one of the top five interior designers in Miami in less than sixteen months—secrets will be revealed).
Connect with Darla Powell
Wingnut Academy: Instagram for Interior Designers
Other Shows Mentioned:
#203: Darla Powell: How to Launch an Interior Design Firm
#330: Darla Powell: Darla Powell Interiors 18 Months After Opening
#601: Darla Powell: Real Tips to Up Your Social Media Game
#830: Anne Gillyard: Capitalizing on Your "You" to Grow Your Interior Design Business
A Big Thank You to Today's Sponsor:
Today's show is sponsored by Darla Powell and Wingut Academy. Check out all the details on https://wingnutsocial.com/instagram-for-interior-designers/