Sara Hillery: Client Retention Strategies
Episode 561 of A Well-Designed Business
®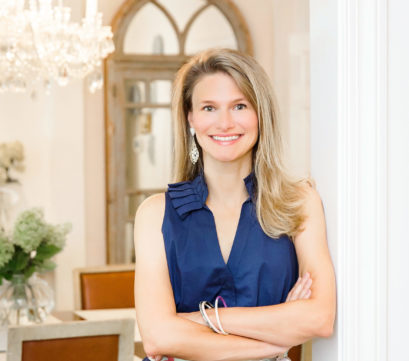 Welcome to A Well-Designed Business! Today, LuAnn's guest, Sara Hillery, shares her top tips for client retention and sound advice that you'll be able to apply to your own business. Take notes or listen to it a second time, too, because you're sure to hear some tidbits you missed the first time!
Sara's approach involves incorporating the fine and rare with the utilitarian and available, creating beautiful and functional spaces. With a focus on honoring each client's personal history, the firm excels at updating and transforming client's interior spaces both architecturally and decoratively making previously acquired and antique pieces more relevant and practical. While Sara draws inspiration from her travels to Europe, India, and Japan, her style invariably reflects her Southern heritage and familial roots in Virginia, Texas, and New Orleans.
Upon graduating from the University of Virginia in 2004, Sara turned her focus to architecture and interiors and received her MFA in Interior Environments and ASID certification at Virginia Commonwealth University in 2007.
After beginning her career in interior design working for a design group in Richmond, Virginia, Sara relocated to Houston where she became a Project Designer at Lucas Eilers Design Associates. While at Lucas Eilers, Sara's projects received numerous local awards and accolades including Best in Show, Best Vacation Home, and Best Residential Green Design, and were featured in numerous publications.
In 2011 Sara opened Sara Hillery Interior Design. As a proud working mother of 3, Sara excels at making design family friendly while still remaining creative, elegant, and timeless. RHome, New Orleans Home and Lifestyles, and Boomer Magazine have featured her work. Sara Hillery Interior Design has completed projects in Louisiana, New York, Texas, and Virginia.
Show Highlights:
"Clients aren't just clients, they're a part of my life." – Sara
Sara has genuine interest in each client. The more she knows and understands about them, the better she can serve them.
Sara's detailed client questionnaire serves as a reference throughout the relationship and is updated as she gets to know the client.
Setting up the client's expectations at the very beginning of a project is very important, and Sara offers her strategies.
LuAnn shares how we sometimes function out of fear, but we can learn how to operate from a place of faith that doesn't rock us when we encounter a surprise.
More tips from Sara regarding client retention throughout the project.
Remember that there is a big emotional tie between the client and the work you are doing for their home.
Don't forget a unique, personal gift to present to your client when the project ends. Sara has a fantastic idea for you to consider!
Bottom line in client retention: Pay attention to people, learn the things about them that matter, and act on ways you can show that you appreciate them.
Connect with Sara!
Sara's Houzz
Sara's Website
Sara's Instagram
Sara's Facebook
Sara's Email
Links :
LuAnn's Blogpost on Faith or Fear
Design-Build For Profit – Coming Late Summer / Early Fall!
With Jenny Slingerland of Black Ink Interiors
Get on the Email List HERE!
19hours The Blueprint – Mydoma Studio
July 15th, 2020
Price: $129
Buy Wholesale For Profit with Traci Connell
Stop Buying Retail and Start Making Maximum Profit
KICKING OFF July 22, 2020
Price: $2195
Are You Interested in a 2 Million Plus Mastermind with LuAnn?
Email her at info@luannnigara.com and put "mastermind" in the subject line.
She'll set up a call and see if it's a good fit for you!
The first of 6 monthly meetings start in August, and there are 3 spots open!
Is Chairman of the Board Right for YOUR Business?
LuAnn's Website
LuAnn's Podcast – Please SUBSCRIBE, Rate & Review!
Purchase LuAnn's Books Here:
The Making of A Well – Designed Business: Turn Inspiration into Action
A Well-Designed Business – The Power Talk Friday Experts
LuAnn's Blog
A Big THANK YOU to These Podcast Sponsors:
FREE Trial! A One-Stop Shop to Keep Everything Organized!
Check Out Their Client Portal and Time Tracking Features!
My Doma Studio A Well Designed Business
Open Your Trade Account with ARTICLE.com Here!
Be the hero for your clients, and be the solution they need right now with Article.
Other shows mentioned to link.