Cory Simon: The Secret to a Successful Interior Design Side Hustle
Episode 922 of A Well-Designed Business
®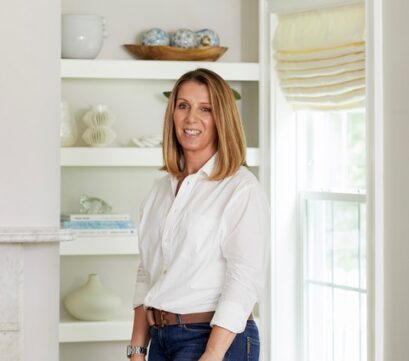 Today With Cory Simon:
Welcome to a Well-Designed Business. There are many designers out there looking to grow and scale their businesses, whether they're coming in from a different career or launching their own firm. But what if you are working your business as a side hustle—and you actually want to keep it that way?  That's the situation for my guest today, Cory Simon of 290 Eliot Interiors. She's working a full-time job, keeping a healthy business on the side, and spending time with her family—all within the same 24 hours a day we all have! You might be wondering how that's possible—and the answer comes down to efficiency.  This is a must-listen if you are juggling your interior design job as a side hustle, or if you simply want to work less hours and get more done!
Pick It Apart
[3:02] Cory shares her schedule (and how she manages to run the business working just a couple of hours a day on it!)
[8:27] Cory gives an insight into how planning and communication keep her efficient.
[24:18] LuAnn and Cory discuss how communication and client expectations matter even more when your business is a side hustle.
[33:08] Cory and LuAnn talk about the importance of saying no to the wrong client (and how to do it respectfully).
[47:42] Cory shares how viewing the client through an emotional lens helps her understand them and create a better experience for everyone.
LuAnn Nigara and Cory Simon's Ah-Ha Moments
"There is an emotional element that it is an emotional roller coaster and you're excited and you're frustrated. And every time you turn a corner people want more money. And so I think sometimes we have to really remember the emotional aspect of a renovation because people aren't just saying things, to say things. They're on an emotional journey, as well as kind of the physical journey of their home." -Cory
"If we could just understand that the job that you say yes to that you know doesn't have the right budget is probably going to take you longer to do and you will actually earn less money at the end when you do the autopsy if you are present enough to do the autopsy of the project. And if you had just said no, you would have either put more energy into a current project and made it that much better or had the time available for a new client to come through the door. But saying yes to the wrong things is rarely a good idea." -LuAnn
More About Cory Simon
Cory Simon found her love of interior design through merchandising retail stores for over 15 years. She took her years of experience in space planning, using color and texture, and her ability to focus on the details to bring a space to life and started applying it to residential design. Starting with her own homes, varying in style and layout, along with planning and consulting on projects with friends and family, Cory loves finding the potential in every space to create something that you will reflect your personal style. Her experience in design, planning, and project management will help translate your goals into a reality.
Connect with Cory Simon
What's new with LuAnn Nigara
http://www.luannnigara.com/cob
A Big Thank You to Our Keynote Sponsors:
Get The Goodies!
For checklists, resources, and extra goodies from A Well-Designed Business sign up for free here.
To Get on LuAnn's Email List, text the word designbiz to 444999!
Purchase LuAnn's Books Here:
Book 1: The Making of A Well – Designed Business: Turn Inspiration into Action
Audiobook: The Making of A Well – Designed Business: Turn Inspiration into Action
Book 2: A Well-Designed Business – The Power Talk Friday Experts
Book 3: A Well-Designed Business – The Power Talk Friday Experts Volume 2
Connect with LuAnn Nigara
LuAnn's Website
LuAnn's Blog
Like Us: Facebook | Tweet Us: Twitter | Follow Us: Instagram | Listen Here: Podcast
Other Shows Mentioned:
541 What Would Lu Do? LuAnn Answers Listener Questions
#909 Power Talk Friday: Traci Connell: Normalizing Wealth With The Gloss
#913 Power Talk Friday: Terri Taylor: The Importance of Money Mindset in Charging Your Worth