Zane and Emily Williams: Leading Clients Through the Design
Episode 874 of A Well-Designed Business
®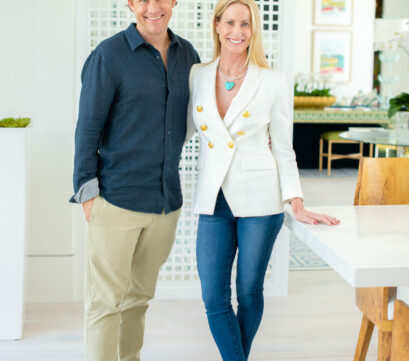 Today With Zane and Emily Williams:
Hi, welcome to A Well-Designed Business. Today I'm joined by a power couple, Zane and Emily Williams from Z Properties. They have established a reputation for evocative design and quality construction, materials, and furnishings. Zane and Emily have worked with every type of client and strongly know how to best navigate relationships for creative freedom on their end and a happy customer on the other, and today they share with us how they do it!
LuAnn Nigara and Zane and Emily Williams' Ah-Ha Moments
"Never back away from what you love and what you feel good about." – Emily Williams.
"If they're a good client they are coming to you because they trust you and they want your confidence and input." – Emily Williams
More About Zane and Emily Williams:
About Zane Williams –
Driven by a belief that the home should be a place that stirs something within you, Zane fuses intuitive project management with a daring design approach, allowing him to conceptualize properties that are executed perfectly and bring a sense of awe to each homeowner and business owner, alike. Zane's incredibly honest and cutting-edge approach to design-build, paired with his expertise in all aspects of the selection and execution of the perfect property, draws clients from across the Central Florida region.
About Emily Williams –
Emily, with a sharp eye for all things luxury design and a captivating presence, combines a confident use of playful palettes and patterns to create unique spaces that beg to be enjoyed. Emily's ability to carefully curate an interior that's surprising and inspired has established Z's interior design offerings as some of the most sought-after in the Sunshine State and beyond.
Emily also extends her passion for living beautifully through her other Winter Parkbased businesses: The Grove (apparel, home goods, and gifts), Be On Park (fine jewelry), and Clementine (wedding registry, tableware and home accessories).
Connect with Zane and Emily Williams
What's new with LuAnn Nigara
http://www.luannnigara.com/cob
Get The Goodies!
For checklists, resources, and extra goodies from A Well-Designed Business sign up for free here.
To Get on LuAnn's Email List, text the word designbiz to 444999!
Purchase LuAnn's Books Here:
Book 1: The Making of A Well – Designed Business: Turn Inspiration into Action
Audiobook: The Making of A Well – Designed Business: Turn Inspiration into Action
Book 2: A Well-Designed Business – The Power Talk Friday Experts
Pre-Order Book 3: A Well-Designed Business – The Power Talk Friday Experts Volume 2
Connect with LuAnn Nigara
LuAnn's Website
LuAnn's Blog
Like Us: Facebook | Tweet Us: Twitter | Follow Us: Instagram | Listen Here: Podcast
Other Shows Mentioned:
#380: Circle Design Studio: Architect & Interior Design Firm: John & Theresa Dorlini