Hilaire Pickett Martin: Lesson From an Interior Design Operations Manager
Episode 864 of A Well-Designed Business
®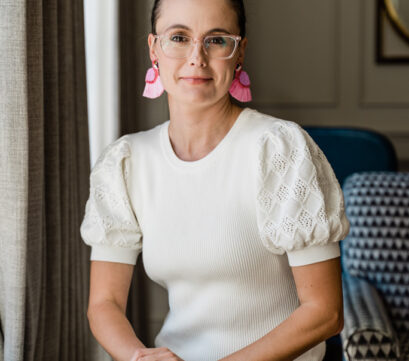 Today With Hilaire Pickett Martin:
Welcome to A Well-Designed Business. On today's episode, I am joined by Hilaire Pickett Martin. Hilaire runs the day-to-day operations at Design Lines, an interior design firm started by her mother, Judy Pickett, in 1979. Hilaire is here to share how she finds operational gaps and implements technological frameworks to support the workflow at Design Lines, with helpful tips and applications you can utilize in your own business. Listen in and learn how to streamline your systems, save time, and maybe even take next Tuesday off.
Pick It Apart
[2:33] Hilaire talks about her background and coming to work for her mother's design firm.
[6:48] Hilaire explains how she compartmentalizes the operational tasks and organizes processes by mapping them out and understanding the different steps involved to see where any gaps might be.
[11:57] LuAnn and Hilaire discuss the pros and cons of implementing new technology, some platforms Hilaire loves, and how the user experience can influence decisions.
[33:13] Hilaire explains how she compartmentalizes business tasks.
[43:18] Hilaire and LuAnn discuss designer outreach and Hilaire's efforts with high school and college interior design programs.
LuAnn Nigara and Hilaire Pickett Martin's Ah-Ha Moments
"If something isn't working, break it down and figure out…what are the parts about this process that are working? But what are the parts that are not working or are just painful?" – LuAnn Nigara
"There's simplicity in operations." – Hilaire Pickett Martin
"If a new technology is not user intuitive or friendly—it ain't gonna win in my book." – Hilaire Pickett Martin
"No one platform has to work for everything that we do." – LuAnn Nigara
More About Hilaire Pickett Martin:
Hilaire Pickett Martin is a graduate of Elon University. Since joining her mother at Design Lines in 2008, she has handled Design Lines' communications and applies her enthusiasm and passion to promoting the firm. In 2013 Hilaire stepped into additionally overseeing all the accounting and day-to-day operations of Design Lines. Described as hard-working and very organized, Hilaire enjoys the team atmosphere at Design Lines, the pulling together everyone does to make a project a success. She is proud to work alongside and learn from her mother.
Connect with Hilaire Pickett Martin
What's new with LuAnn Nigara
http://www.luannnigara.com/cob
Get The Goodies!
For checklists, resources, and extra goodies from A Well-Designed Business sign up for free here.
To Get on LuAnn's Email List, text the word designbiz to 444999!
Purchase LuAnn's Books Here:
Book 1: The Making of A Well – Designed Business: Turn Inspiration into Action
Audiobook: The Making of A Well – Designed Business: Turn Inspiration into Action
Book 2: A Well-Designed Business – The Power Talk Friday Experts
Pre-Order Book 3: A Well-Designed Business – The Power Talk Friday Experts Volume 2
Connect with LuAnn Nigara
LuAnn's Website
LuAnn's Blog
Like Us: Facebook | Tweet Us: Twitter | Follow Us: Instagram | Listen Here: Podcast
Other Shows Mentioned:
WTFP #125: Debra Scarpa: The Power of a Visionary & Integrator Relationship
AWDB #585: Sandra Funk: Helping Designers Improve Their Business Systems
WTFP #21: Vita's Tip in Ten: How To Protect Yourself By Following Your Systems
Other Resources Mentioned: