Flashback Friday: Laura & Cliff Muller: Four Point Design-Build Firm
Episode 682 of A Well-Designed Business
®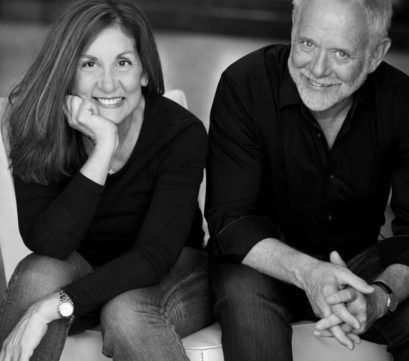 On Today's Flashback Friday
Welcome to a Well-Designed Business. Today we're taking you back in time for another Flashback Friday, where we revisit some of our can't-miss episodes from our archives.
Today's flashback episode is Episode 441: Laura & Cliff Muller: Four Point Design-Build Firm.
Laura and Cliff have extensive experience in the design-build industry. They know what it takes to create exquisite design-build projects, the intricate details, legalities, and liabilities you have to face when you work in design-build, and how best to launch your design-build career.
Let's revisit the episode and find out what it really takes to make it in design-build.
Check out the Seasonal Living Collection here
Pick it apart:
[6:50] Laura and Cliff share the personal side of their business and how they celebrate all of their partners at the end of a successful project.[16:36] Laura and Cliff dive into their four-step process and how that leads to strong projects.[19:19] LuAnn asks Laura and Cliff what advice they would give to new designers interested in the design-build world.

[25:19] Cliff and Laura talk about the importance of experience and how to gain it as a newer designer.

[53:30] LuAnn, Laura, and Cliff discuss what to do when you encounter pushback from clients on larger projects.
LuAnn, Laura and Cliff's Ah-Ha moments:
"It does take a village. I could never stand up and take credit for a project at the end of the line and say, 'Hey, look at these pretty pictures. I'm the designer,' because not any aspect of that project was done alone." -Laura
"The idea is you're starting a project from concept—the design, the plans, if it's a renovation, the changes in the roof lines, the changes in how things are going to go together, the plumbing, the electrical—all of these things are important to coming up with the concept…Experience is very valuable and if you decide to do something in the design build setting, I believe you need to have some experience on the construction side to help facilitate your goal." -Cliff
"The risk is so much higher here. We're not moving furniture around and picking paint colors. That is scary enough and a risk of its own when you're brand new. But this is not the same animal whatsoever." -LuAnn
"The better step 1 gets frontloaded and the more details we have to inform step 2, 3, and 4, the better off we're going to be, and then we don't have to be overseeing the project on a day to day." -Laura
More About Laura & Cliff Muller
Four Point Design Build is owned and led by interior designer and general contractor, Laura and Cliff Muller, and with over sixty years of combined experience, FOUR POINT's boutique hands-on style of design and project management from concept to turnkey, specializes in highly customized client-centered projects with an experienced and immaculate focus on whole home remodels, kitchens, baths, and office spaces. Cliff and Laura's work has been seen Architectural Digest, Elle Décor, Better Homes & Gardens, House Beautiful, Metropolis, Hospitality Design, and CA Home & Design to name a few.
Connect with Laura & Cliff Muller
Check out the Seasonal Living Collection here
What's new with LuAnn Nigara
insidevoiceoutsidevoice.com
http://www.luannnigara.com/cob
Get The Goodies!
For checklists, resources, and extra goodies from A Well-Designed Business sign up for free here.
To Get on LuAnn's Email List, text the word designbiz to 444999!
Purchase LuAnn's Books Here:
Book 1: The Making of A Well – Designed Business: Turn Inspiration into Action
Book 2: A Well-Designed Business – The Power Talk Friday Experts
Pre-Order Book 3: A Well-Designed Business – The Power Talk Friday Experts Volume 2
Connect with LuAnn Nigara
LuAnn's Website
LuAnn's Blog
Like Us: Facebook | Tweet Us: Twitter | Follow Us: Instagram | Listen Here: Podcast
A Big THANK YOU to Today's Podcast Sponsor:
Revel Woods: your source for premium hardwood and resilient flooring. Using the Revel Woods selector tool, you'll be able to find curated suggestions for your project catered to your client's home. When you sign up for a free professional membership, you'll get access to exclusive discounts and referral benefits. Visit http://www.revelwoods.com to get started.