Our 6th-month Anniversary Celebration
Episode 61 of A Well-Designed Business
®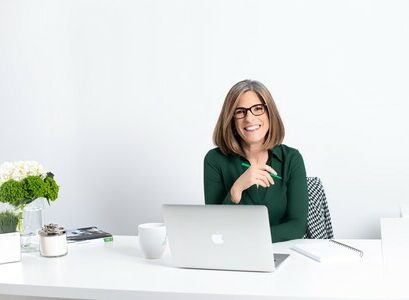 Hi!  Welcome to another episode of A Well-Designed Business!
Today is the actual 6- month anniversary of the podcast and I thought I would do a solo show and reflect on The Things I Learned From A Well-Designed Business. And then I am going to share with you, my Top 10 favorite podcasts.
Now these are by no means the only things learned in these last 6 months and they are not even necessarily the absolute most important. And as a matter of fact, I have specifically not included the coaches and consultants on this list. Every one of the consultants I have had on has shared extremely valuable advice, but it is straightforward and easy to grasp listening to their interviews. Today I am concentrating on regular designers like you who have discovered something, implemented something and are by doing it have made improvements to their businesses. So are you ready?
Erica Ward Identifying Your Transferrable Skills (Getting real and evaluating yourself and what you bring to the table) episode # 6. Identify what are your transferable skills and hire opposite those skills. Barbara Viteri talked about the same type of thing and they both encourage you making a lists of:
the things you're good at
the things you know how to do
the things you like to do
the thing you're not good at
the things you don't know how to do
the things you don't like to do
then with the list that's opposite of yours, you arrive at the qualifications that you're looking for in your first hire.  Link:  http://windowworks-nj.com/06-identifying-your-transferrable-skills-with-erika-ward/
7. Nancy  Ganzekufer- Niche is Riche, Broad is Broke. Episode 15.  Countless examples, Cheryl Janis specializing in boutique healthcare spaces, Terri Lind Davis with her art and boomer focused design, Heather McManus with her video series and her book, I could go on…all of these designers and many more have created a niche so that they can stand apart from any other designer a prospective client might be contemplating. Andrew Joseph from Andrew Joseph PR said to us- discover what is your "you", what is your essence, what makes you different from the others.   Link:  http://windowworks-nj.com/nancy/ 
James Swan Meet the Man Behind The Million Dollar Decorating Podcast; Episode # 49 research and investigate first if the dream the desire you have for your firm is actually aligning with the way you want to live your life. Link:  http://windowworks-nj.com/james/
Merrill Santopietro How to Re-Invent, Revitalize Your Firm, Even After 20 Years- Episode # 40 yes obviously be a go getter employ old-school techniques for drumming up business but most importantly show prospective clients the problem they have and why you are the answer the solution to the problem. Link: http://windowworks-nj.com/meryl/
Mary Fisher . Author, Artist, Advocate, Social Entrepreneur episode #34 Mary taught us lots of things but I think the most poignant was that she said to make sure you take time every week to be in your own head to let your creativity flow from Mary it's her art and expressing and creating new canvases new sculptures for me it's exercise I wish I could run and write at the same time because the ideas come flowing on the single run or walk I go on. Link: http://windowworks-nj.com/mary/
Top 10 podcasts I Listen to:
The Chaise Lounge
Biz Chix with Natalie Eckdahl
Problogger Podcast Darren Rowse
Happier With Gretchen Rubin
Online Marketing Made Easy with Amy Porterfield
The Strong Women's Club with Edie Berg
Kate's Take with Kate Erickson
Fresh Air with Terri Gross
The Leonard Lopate Show
Stuff you missed in History Class
Thank you so much, I hope you enjoyed this different episode. Please remember to connect with me on Facebook at www/facebook.com/windowworksnj, find all about Window Works at http://www.windowworks-nj.com and don't forget about your 10% discount on your 1st  curatedkravet.com purchase. At checkout enter CKPODCAST
Thanks so much, have a great day!