Turning the Tables – An Interview with LuAnn
Episode 52 of A Well-Designed Business
®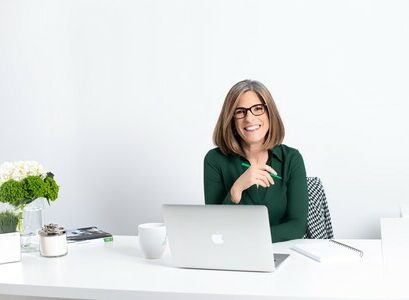 Welcome!
LuAnn Nigara is an award winning window treatment authority, author, and host of the 5 star-rated podcast, A Well-Designed Business, which serves the design industry as an overall business dynamo.
Based in Livingston, New Jersey, LuAnn got her start in 1982 when she, her husband, and cousin, purchased a franchise of the Florida based, full service window treatment company, Window Works. With LuAnn at the helm of sales, they quickly expanded from New Jersey to serving the entire metro area from Philadelphia, to the Hamptons to Connecticut and became the leading showroom in gross sales of the more than 120 stores Window Works stores around the country.
"I have always been fascinated by sales and the components of a sale," explains LuAnn, who brings an unmatched passion and expertise to the business of window design. "At ten years old my Aunt gave me the book, The Greatest Salesman in the World by Og Mandino and I quickly looked for every book like it. That was the beginning of what became my obsession with the art and skill of the sale."
Soon after running Window Works leading franchise, LuAnn thought of something no one else had: Why not work directly with interior designers? "Back then I thumbed through the phonebook," laughs LuAnn who recalls cold calling designers and asking them to partner with her. Today, she counts Sussan Lari Architects, Alexandra Angle Interiors in Los Angeles, Anyon Designs (San Francisco), House of Funk in NJ, Pembrooke & Ives and Charles Pavarini as clients.
After more than thirty years of designing, creating and installing window treatments for the most discerning clients, LuAnn is now recognized as a leading voice in the business of design. In addition to speaking at the American Society of Interior Designers (ASID-NJ) and the world-renown Hunter Douglas conference, she is regularly called on by Design NJ as a resource. She's been featured in Design NJ and appeared on House Smarts TV. In 2012, LuAnn authored the e-book, 10 Things to Know About Window Treatments and was featured in Big Bold Business Women of NJ.
In the summer of 2015, LuAnn was searching for radio shows that spoke of her interest in the business of design–and found nothing. That was her "Ah Ha! Moment" and she decided to start a podcast. Today, she hosts a weekly 60-minute podcast 'A Well-Designed Business.' The twice weekly Internet show features in depth conversations with industry professionals on just about every subject on the business of interior design, from "Branding for Designers" "How to Get PR," and How to Structure your Fees.
LuAnn lives in New Jersey with her husband. After more than three decades in business, she has no plans to stop any time soon.
Learn more about Luann and her work here:
Connect with her on Facebook: