Park & Oak Interior Design: From the Park Bench to Luxury Design Firm in 3 Years
Episode 427 of A Well-Designed Business
®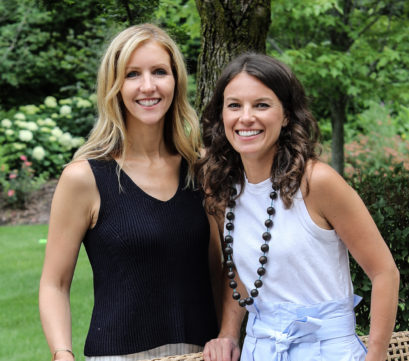 Welcome to the show! We have Christina Samatas and Renee DiSanto, the founders of Park and Oak Interior Design Studio, located in Glen Ellyn, Illinois, with us today. These ladies work on new construction, renovation, and furnishing projects across the US, and you may even know them from their Instagram, with 130,000 followers. The way that they handle themselves and speak about their firm really conveys the confidence that they have in what they're doing. And the success they've had in their first three years in business is not at all typical. In today's episode, Renee and Christina pull back the curtain and boldly share with us their experiences and the lessons they have learned over the last three years. Listen in today, to find out what they have to share.
Christina Samatas and Renee DiSanto founded the Park & Oak interior design studio in 2015. They are known for creating homes that are visually stunning, yet functional and comfortable. Their work, rooted in the art of timeless style, is driven by the belief that design can be used to create feelings of comfort and happiness. It combines the best of their individual aesthetics for a unique look. Christina and Renee have a creative energy that is engaging to work with. Using beautiful and unexpected sources of inspiration, they work collaboratively with clients to create spaces that thoughtfully honor the spirit and traditions of their owner. Tune in now for more!
Show Highlights:
Renee and Christina talk about what each of them brought to the table when they started out, and about what attracted them to each other, as business partners.
Some of the one-year and five-year goals that they established when first starting out.
Renee and Christina's approach to the individual roles that they have in the business.
Renee describes the really special way that she and Christina work together.
From a park bench to a studio.
The first person that they hired was a bookkeeper.
What kept them powering through in the beginning, when they were sacrificing a lot and there were many challenges to face.
Struggling with balancing family life and business.
It took some time to bring their really awesome team together.
In year two, they experienced a turning point in the business.
They use a finite system to prevent problems and execute their projects efficiently.
Learning from their mistakes and gaining the courage to stand up for themselves.
Creating the right systems, in order to protect themselves.
There's really a lot going on behind the scenes too.
How they find the time to keep their systems in order and their projects running smoothly.
Renee is behind their really impressive Instagram following.
Links:
Instagram: Park And Oak Design