Power Talk Friday: The Who's Who of LuAnn Nigara Live
Episode 405 of A Well-Designed Business
®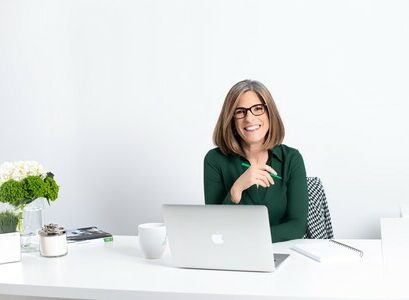 Welcome to another episode of Power Talk Friday!
Today we're going tease you by sharing all the details that are coming together for LuAnn Nigara Live, It's About the Conversation. In today's episode, you will hear about LuAnn's co-authors, the awesome emcees for the event, the incredible line-up of sponsors of the show, and also the designer panelists who will be there with us for the entire weekend, for you to meet, talk to and connect with. Tune in now for all the details!
LuAnn will be leading the rock star team of experts in twelve live discussions, just the way she does right here, on the podcast. And they will be together with everyone for meals, for breaks and for fun, with music, laughter, and working harder than you ever thought was possible in two days. More than 120 designers have registered for the event so far, and we really hope that you will decide to be excellent, and choose to join us there too! Listen in to find out more!
Show highlights:
All LuAnn's co-authors have already finalized their travel arrangements for the event!
LuAnn runs through all the amazing people that are coming to spend two-and-a-half days at the event in New Jersey.
Fred Burns is the single most repeated guest on A Well-Designed Business.
Nancy Ganzekaufer is the lady who brought us Your Business in Words.
Nicole Heymer is the voice of figuring out your brand.
Michele Williams is the finance lady who teaches us how to stand up and take charge of our money.
Sarah Daniele knows all about systems and organization for a well-run interior design firm. She created MyDoma Studio.
Stacey Brown Randall is all about building, filling, and maximizing your pipeline through intention and purpose.
Eileen Hahn knows how to create a really exceptional team.
Kae Whitaker has her thumb on the heartbeat of digital marketing.
Shauna Lynn Simon, home staging business coach, tells us that home staging is designing for selling, not designing for living.
Mark McDonough is the Instagram guru and he is always dying to tell you about his latest discoveries.
Peter Lang is the Designer CPA and he will help you to keep more of the money you work so hard to make.
Claire Jefford is an interior designer, vlogging queen extraordinaire and a master at setting up your consult, your client agreements so that you are purposefully managing both your projects and your client's expectations.
The emcees for the event are Darla Powell, the principle of Darla Powell Interiors, and Natalie Graff. They host the Wingnut Social podcast together and they also own and operate Wingnut Social.
The sponsor lineup includes Kravet, MyDoma Studio, Schwartz Designs Showroom, Merrill Landis, DesignerInc, Ashley Uhl Consulting, The WCAA, East End Interiors, Exciting Windows and Comfortex.
The designer panelists who will be there for you to meet and talk with are Sandra Funk- House of Funk, NJ NY, Corey Damen Jenkins, Taylor Spellman, Paula Grace, Rachel Cannon, Candy Scott, Dala Al Fuwaires, Courtney McLeod, Keisha Franklin, and also Corey Klassen and Judith Neary of the Design Biz Live series.
LuAnn will be leading the team in 12 live discussions, just like here, on the podcast.
LuAnn really hopes that you will be there to join her and all the other outstanding people at the event!
Links:
To register for the event go to Luann Nigara Live
Until March 4th you can still grab yourself 10% off any furniture order from Kravet and Lee Jofa. Use the code W710 at checkout.