Breegan Jane: Interior Designer, Podcaster, Entrepreneur
Episode 362 of A Well-Designed Business
®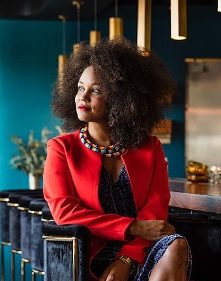 Welcome to today's episode! We are very happy to introduce you to Breegan Jane, a unique and fun individual who is a super-high achiever! Breegan is an interior designer who also has a successful blog, a high following on Instagram, and she's a podcast/radio host. She previously worked as a creative director in the luxury yacht business and as a property manager for multi-international million-dollar homes. Listen in today to find out about Breegan's vast experience and how it informs her currently, as an entrepreneur and interior designer.
Multifaceted entrepreneur Breegan Jane does it all.  A full-time businesswoman, interior designer, blogger, and popular podcast host of Mom Life Yo, all in all, her spare time. Her most recent project is the design of the new, buzz-worthy Los Angeles restaurant, NATIVE, spearheaded by award-winning Chef Nyesha Arrington of Top Cheffame. A single mom from Southern California, Breegan Jane credits her boys for pushing her to break down walls and test boundaries. She uses her powerful voice to inspire others and bring joy to people's lives. Listen in to find out what Breegan has to share on the show today.
Show highlights:
How Breegan's experience, managing international real estate projects with a full staff and working as creative director and marketing professional for a luxury yacht manufacturer, translates to her current interior design business.
The importance of great leadership.
Great lessons from great bosses along the way.
Utilizing every opportunity to the best of your ability.
Feeling more at home in Dubai than in Texas.
The importance of visual representation.
Being given the space to run with your ideas.
Transitioning to the design world.
How Breegan developed through her experience.
The kind of project Breegan enjoys the most.
Identifying 'no-win' situations with clients.
What being a mom and entrepreneur mean to Breegan.
The way that Breegan was raised to be empowered.
The power of turning negatives into positives.
Breegan's dreams and aspirations for the future.
Links:
Other episodes mentioned on this show: