Design Biz Live: Best Practices for Profitability
Episode 312 of A Well-Designed Business
®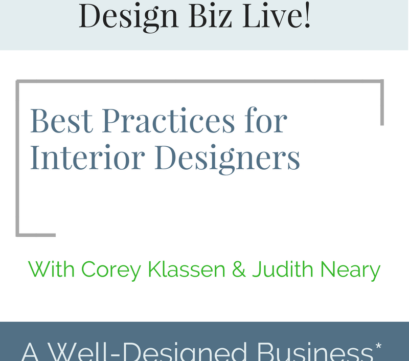 I recently received an e-mail from Colleen from Colleen Knowles Interiors in Mercer Island, WA. Colleen says she is in the process of getting her back of the house systems more organized, and requests that we do a show on purchasing. So, on today's show, Judith, Corey and I will address all the winding trails you may find yourself on when dealing with all the many facets of purchasing.
For many designers just starting out in the industry, purchasing and pricing can sometimes be a volatile topic. Industry norms along with the best practicing of purchasing can overwhelm you if you don't have good systems in place.
Show Highlights:
Corey explains three different models for purchasing and pricing.
Learn some of the pitfalls of the kickback model.
Steering away from legal problems.
A designer can act as a sales consultant..
A professional approach to pricing
Project minimum, flat fee and hourly pricing

C

ollecting retainer and consultation fees
How to incorporate pricing for online vendors
Judith discusses managing purchased items onsite.
Avoid discussing net purchase pricing with clients.
*   The better you handle the contract and front end, the smoother the back end will be.
LuAnn and Judith say there is no substitute for personal touches.
Resources:
This episode is available on A Well-Designed Business YouTube Channel