Cheryl Luckett – From Side Hustle to Full Time Interior Design
Episode 291 of A Well-Designed Business
®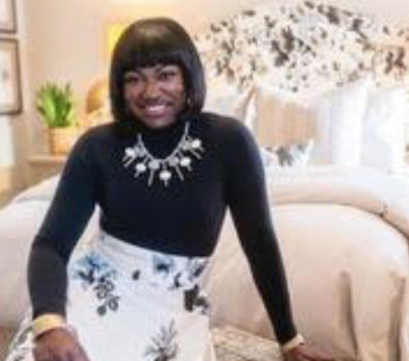 Cheryl Luckett is the principal of Dwell by Cheryl, her interior design company. She has two areas of expertise that I'm interested in sharing with you today. She has taken her side hustle into a full-time profession, leaving the security of her corporate job. She actively engages in the business mentor/mentee relationship. Loyal listeners might remember a few weeks back, in Episode 267, with Rasheeda Gray of Gray Space Interiors. She described then how her mentor has helped her through the challenges of having a corporate job while working hard on the side in interior design. Cheryl is that mentor that Rasheeda spoke about.
Southern Home describes Dwell by Cheryl as "opulence in reach, with vintage treasures and ingenious restyles." Cheryl believes her clients should dwell in a home they love. She describes her design as "sophisticated but approachable." She launched in 2012 and continues to grow, with clients raving about her ability to transform a space on a realistic budget. It's also her professionalism and attention to detail that earns her high praise. She shares with us about her 15-year career at a Fortune 500 company, along with her beginnings as a registered dietician and human resources professional. It was here that she developed her service skills and business acumen. I'll remind you of Episode 6, where Erika Ward told us to "make sure that you think about and utilize your transferable skills when you open your interior design firm." Cheryl will tell us how she has accomplished that.
Cheryl's work has been published in Charlotte Home and Garden, Southern Home, The Charlotte Observer, Queen City Exclusive, and Hoffman Media's Southern Spaces, to name just a few. She is a five-time recipient of Best of Houzz Award for Design and Customer Satisfaction, and in 2015, she was named one of the 15 best designers in Charlotte by Build Direct. Cheryl also believes in giving back, and she has partnered locally with agencies such as Goodwill of the Southern Piedmont and Metrolina Habitat Restores to promote non-profit retailers and their missions. Join me for this conversation with Cheryl!
What you'll hear in the episode:
How I met Cheryl at the Design Bloggers Conference in Los Angeles in 2017
Insights on running an interior design firm while working a full-time corporate job
Cheryl's path as a registered dietician, then in school foodservice, then human resources
Following her love of design and décor to start a blog and take design classes at the local community college
"I never treated this design business as merely a side hustle. I wanted to be ALL IN."
How a Design Bloggers Conference in 2012 changed everything for Cheryl: "I felt like I was finally with MY PEOPLE."
Planning an exit strategy from the corporate world
How Cheryl's blog grew and spread to become an effective marketing tool
Looking for one YES
Juggling a full-time job while designing for clients and taking design classes
Why Cheryl had a "waiting list"
Finding interns through a design program for students
The criteria for leaving her corporate job, making the decision, and setting a time frame
The 36-month plan and Cheryl's financial advisor
"Preparing for D-day"—building a website and putting systems in place
Cheryl's relationship with Rasheeda and why she wanted to be a mentor
The guidelines and boundaries to the mentor/mentee relationship
Cheryl's mentor and friend, Ruthie Staalsen, a designer in Dallas
Cheryl's plans for this year's Design Bloggers Conference
"Social media: the best money you'll never spend on marketing."
Watch Cheryl Luckett's feature in LuAnn's new 3-part docuseries:
Watch the full 3-part Docuseries here. See behind the scenes of what it took to build A Well-Designed Business® podcast.
Resources:
Curated Kravet (Use code "ck podcast" for 10% off your first order!)
Her website and social: Her website: Dwell by Cheryl Her Blog: Dwell by Cheryl Blog Her Instagram: Dwell by Cheryl/ Her Facebook: Dwell by Cheryl/ Her Twitter: Dwell By Cheryl Her Pinterest: Dwell By Cheryl/ Her Linkedin: Cheryl Luckett/