Caitlyn Waite: Savvy Giving by Design's 1st Affiliate in Mobile, Alabama
Episode 284 of A Well-Designed Business
®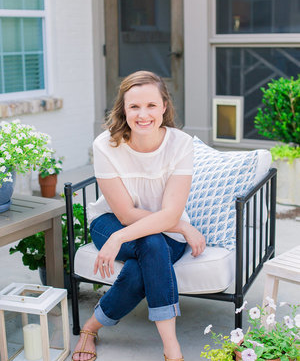 Welcome to today's show. Our guest for today is Caitlyn Waite, an interior designer from Mobile Alabama. Caitlyn has been chosen to head up the very first affiliate chapter of Savvy Giving By Design, a really wonderful organization started by Susan Wintersteen (#164) with a mission to provide comfort, healing, and support to families with a child facing a medical crisis. This is done by transforming the interior space of the bedrooms of the child and their siblings, at no cost to the family. Listen in to find out more.
Download Things I Learned from Caitlyn Waite
Also, through her interior design business, Caitlyn has developed a relationship with a builder and she already has twelve confirmed projects lined up with him for 2018. Today she talks in detail about how this relationship came about and also about the kind of things that you, as designers, really need to know if you would like to duplicate in your design firm what Caitlyn has done in hers. Listen in today to find out more about Caitlyn's approach to cultivating valuable relationships with builders in order to create a really successful design form.
Show highlights:
How Caitlyn initially came to hear about Savvy Giving By Design through this podcast.
The whole legal process that Caitlyn went through in order to become set up with Savvy Giving By Design.
Caitlyn talks about her very first Savvy Giving project.
The story of Caitlyn's daughter's Angel's Kiss.
How Caitlyn found Georgia, the first child who's room she will be transforming.
The unforeseen difficulties that Caitlyn experienced in finding nominees for the Savvy Giving project and what Susan Wintersteen has done to help overcome this.
The kind of fund-raising that Caitlyn has done for the project- and how you can also get involved by making a donation.
There are even some tradespeople who are willing to donate their time to this project.
The way that Caitlyn works with the children to create a space for them that they will really love.
How this project differs from a standard design project.
The way that Savvy Giving is working as a cohesive unit towards attracting national fund-raising.
Caitlyn explains how she developed her relationship with a local builder and she discusses her business model for 2018.
Caitlyn's dream solution to the general difficulty that many designers experience in finding sub-contractors to execute their work.
Some tips from Caitlyn about the way that her finances are handled with Joe, the builder that she works with.
The freedom that Caitlyn experiences through the kind of work that she does with Joe.
Caitlyn discusses some of the challenges that she deals within her 'spec' design projects.
Some awesome advice about having a successful initial conversation with a builder who you may want to build a relationship with.
Resources:
If you would like to donate towards the awesome Savvy Giving By Design project, you can go to their donate page on Savvy Giving By Design.org
Go to My Doma Studio to sign up for a 30 Day Free Trial with My Doma Studio. Upon signing up for the trial, you will receive 20% off your subscription, as a listener of the podcast.