Lisa Escobar – When Your Ideal Client Isn't Who You Thought it Was
Episode 258 of A Well-Designed Business
®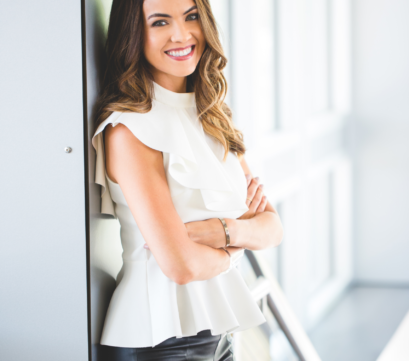 Today we have Lisa Escobar on the show and she has a Design Firm based in Las Vegas. Lisa was initially connected to LuAnn through Christie Leu (episode #182) and Darcy Hether (episode #220). Lisa, Christie, Darcy and another Designer, Jessie Cooney, met at an Interior Designer Workshop Summit. They really hit it off and decided to all meet again, for a weekend retreat. Today, on the show, Lisa discusses the value of getting together with other Designers and having some quality one on one time together and she also talks about her firm, Lisa Escobar Design. Listen in to find out more.
Lisa is from Las Vegas, and growing up in the 'Entertainment Capital of the World' has really had an impact on her career, where she has managed to complete a vast range of projects in an impressively short time. She has consulted on and managed high-rise condo transformations, high-end residential spaces, and new build designs, both locally and beyond. She has shaped concepts and designs for Commercial and Hospitality projects alike, collaborating with the best of the industry's Design Professionals. The influence of the glitz and glamour of Las Vegas has helped Lisa to add flair and high style comfort to everything she's touched. Travelling to places such as China, Spain, and France has offered her inspiration to draw from daily, to shape her vibrant and polished style. Lisa is steadily gaining recognition from the Design Community and well-respected brands such as HGTV, Houzz, International Market Centres and the High Point Market Authority view her as a sought after tastemaker and a rising star. Lisa's ten-year history of working alongside Hotel Executives, Nightclub Owners and high profile clientele at top resorts has led her to create a business that really encompasses some very important principals. Lisa was left ingrained with some vital key service values, from the Five Star Five Diamond environment of the Wynn and Encore Resorts. Listen in today, to find out more about Lisa's approach to her Design Business, which really sets her apart from the rest.
Show highlights:
The great benefits of spending quality one on one time with other Designers.
The 'secret sauce' behind the really valuable time that Lisa spent at the weekend retreat with three other Superwoman Designers, Christy Lou, Darcy Heather and Jessie Cooney.
Lisa discusses how her typically high level, CEO, high performer, mostly male, niche market came about.
The way that Lisa leverages her previous work experience in the Hospitality Industry, for her current business.
How Lisa evolved towards realizing her niche.
Looking at your strengths, to find your ideal market.
An unintentional marketing tactic that really worked!
Lisa's experience of being at Cambria's Residential Style-makers Summit, in Minnesota and how she got to go there.
All about Lisa's Firm.
The secret to how to ask for money.
Paying attention to your gut feelings.
Resources:
Lisa's website: www.lisaescobar.com