Design Biz Live – The Most Important Tips For a Successful Interior Design Business
Episode 206 of A Well-Designed Business
®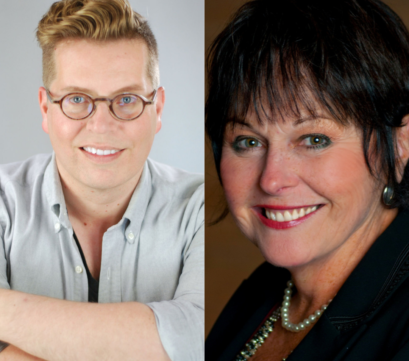 Today, LuAnn is shaking it up a bit and introducing a new monthly feature, called  Design Biz Live!
On the third Wednesday of every month, she will be talking with Judith Neary of Roadside Attraction Design Studio and Corey Klassen of Corey Klassen Interiors and they will be discussing the specific problems and challenges that you are facing in your design firm. Somewhat similar to what LuAnn's been doing for the last eighteen months, however, with Design Biz Live, she will be dealing with the questions that you have by asking them of these two talented designers. So, it's the same, but different… Listen in to find out what it's all about!
If you'd like to know more about who Corey and Judith are, you can listen to episode #170, where LuAnn first met them and there you can hear all about their firms and their backgrounds. What really makes this new feature so actionable and worthy, is that Corey and Judith run two entirely different kinds of firms, with Judith's being a solo operation, on a small island and Corey's in a big city, with staff. This will be really fun and interesting and it will also give you two very different, yet valid perspectives.  What makes it live, is that in addition to this podcast version, there is also a video available, of the three of them, which will be posted on LuAnn's Youtube channel, A Well Designed Business, as well as on the LuAnn Nigara Facebook Page. LuAnn wants you to know that this format is a bit more laid back- more like a coffee jam session- and she also warns you about having these three crazies all in one place! Make no mistake about it, however, they're still going to be covering the business principals that you need to know, in order to be successful. At the end of the day, the goal is still to help you to be more productive and profitable.
They've decided to start off with an introduction of the philosophy of both Corey and Judith, so they have each made a list of thetop things that they think you should do, or you should know, in order to be successful in the Design Industry.You don't need to take notes, because if you go to http://www.windowworks-nj.com/designbizlive1, you can get your free PDF download of 'The Things I Learned from Judith and Corey Design Biz Live Episode #1'. Listen in now and enjoy the new show!
Show highlights:
The first thing on Corey's list- To be really completely obsessive about drafting and graphic communication. And also…please spell correctly! Corey explains why your construction drawing really needs to be a work of art.
The number one thing on Judith's list- Install a toilet, upholster a couch, hang wallpaper, mud and prep dry wall. In other words, get dirty. You really need to have an understanding of not only your trades and what's involved with the different aspects of the product that you're specifying or selling, but there is a respect aspect to this too, which you can only gain through getting a real understanding of the various skill sets involved with doing all of this- and doing it really well. Without this you're not going to be able to really connect with those trades.
Number two on Corey's list- You need to take accounting classes. You really do need to know the difference between a mark up and a margin, gross profit and net profit and how much you cost– not how much you earn. The latter includes overheads, facilities, equipment, your hourly rate and your costs for  getting back and forth.
Number two on Judith's list- Work on a finish line at a Cabinet Manufacturers for at least two weeks. Not going to happen easily, but you should try! This is because you really have to have an understanding of the human element involved here. There are going to be imperfections- this is in the nature of the business, so this understanding helps lessen the shock or surprise value when something does go wrong.
Number three on Corey's list- Visualise the details. Stand in the room for five minutes and design it in your mind. If you really can't do that, you're going to have trouble getting through the whole process.
Number three on Judith's list-  Run the plumbing for your bath design and then do the tile installation. Think this through from the beginning. This is a fundamental, as it's about the reality of what happens on a job site, vs your drawings, vs life, vs product, vs the variation in the installation  process. This is, again, about having an understanding of  and a compassion for the trades. You can only get that through hands-on experience.
Number four on Corey's list- Don't think for a second that going out on your own is going to be easy. It isn't! It's going to be the hardest stuff you've ever done in your whole entire life, but, it's really so rewarding and so fun!
Number four on Judith's list- Date a Lawyer and learn how to argue effectively. One of the huge challenges in the industry is that there's always conflict and conflict often comes up in communication.  This isn't about arguing, it's really about problem solving. About getting to the issue of what the conflict is about. It's about how to resolve things effectively and professionally, without creating more conflict.
Number five for Corey- Use really solid contracts with clients. Don't kill them with the contracts, though. ASID has a set of contracts that you can purchase.
Number five for Judith-  Take out your nose ring and go and work at Nordstrom for a year and learn how to dress. Find a style somewhere between Brad Pitt and Iris Apfel. It's really important for Trade Professionals to look professional. You really can make a personal statement and find a way to be neutral and appropriate to the situation, without challenging your customer.
Number six on Corey's list- Take credit cards. The fee that's charged is usually offset by the amount of work that you save from having to go to the bank to deposit a cheque.
Number six on Judith's list- Learn grace under pressure. Experience and manage customer triage. Work at a Big Box Store for a year. Great to learn to manage multiple clients at the same time and maintain grace, think on your feet in and do problem solving in a retail environment. Don't hire anyone without any retail experience.
Number seven on Corey's list- Follow through on everything and think about the big picture. This is really important to solve those unresolved things that are hanging around and to nip them in the bud.
Number seven on Judith's list- Go old school and learn how to use a sharpie and paper to quick sketch your concepts.  This is just basic artistic ability- not tech. You can go to an art school to learn this. It's a really respected and impressive technique.
Number eight on Corey's list- Document everything. You never know when you're going to need it!
Number eight on Judith's list- Design something and build it. Not a 3D printed model- really build it yourself. You'll really get a fundamental understanding of how things are put together this way.
Number nine on Corey's list- Don't cheap out on software and solutions. They really are your best efficiency machine. You can do the same amount of work and charge the same amount of money, or you can do less work and charge the same amount of money…
Number nine on Judith's list- Learn the difference between a professional rejection and a personal one. They may not like you, but they should at least respect you. It's often hard to separate the two as creative professionals. This is learned usually through experience. Develop a professional perspective.
Links:
Corey's website: http://www.coreyklassen.ca
Judith's website: http://www.roadsideattractionstudio.com