Lynn K. Leonidas- Establish Your Intentions & Create a Successful Interior Design Firm
Episode 179 of A Well-Designed Business
®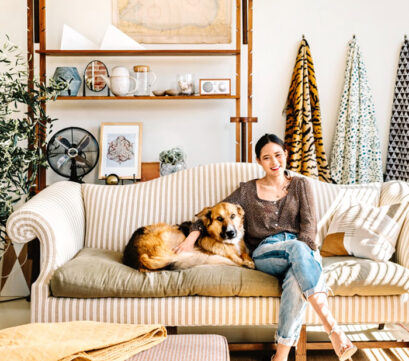 The guest on today's show is Lynn Leonidas!
He's the principal of Lynn K. Leonidas Design and Decoration, in the San Francisco Bay Area. LuAnn had quite an 'aha moment' when she first started talking to her, as she suddenly realized that Lynn had achieved some really awesome things and had been published in some truly notable places, after only running her own firm for two years! Listen in to find out about the really remarkable way that Lynn launched her business.
Lynn takes particular pride in her relationships with her vendors, which she says comes from having a contractor father, who taught her all about building techniques and materials. Lynn has a degree in Interior Design and Architecture and another in English Language and Literature.  Her work has been featured in Sunset, Domino, Lonny, Rue and also in Refinery 29. Prior to starting her own business, Lynn worked in Interior Design in the Bay Area for ten years. She first worked at The Workroom for two years, doing window coverings, soft furnishings, and upholstery. This is where she says that she probably got the best education for doing what she does now. After that, she became a Project Manager at The Workroom and then after that, she did Project Management for a couple of other designers, before striking out, on her own. Join LuAnn and Lynn now and find out how Lynn intentionally set out to achieve her success.
Today, Lynn talks to LuAnn about:
How she's been able to achieve so much in only two years.
Her strategy, once she knew that the article about her was coming out in Domino Magazine, in six months time.
The Consultant (Christa Cooper Communications) and Business Coach (Sarah, of Anchor and Orbit) who really encouraged her to go out on her own.
How she landed a featured in Domino Magazine, before even going out on her own!
What she did to be prepared, after deciding to start her business.
How she started out, using a friend's network, before having a portfolio to show people.
The great opportunity to do a gut renovation, that presented itself to her, as she was starting out.
How her Business Consultant helped her to develop her dream and business plan and to decide about the kind of work that she really wanted to take on.
How she handled the clients who were not able to meet her budget requirements.
How she's evolved to being totally comfortable with talking openly to people about their decorating budgets.
Her past experience with Project Managing and with Bookkeeping, and how these have really helped her in her own business.
Her experience with working in editorial and how it helped her later, as a designer, to understand the fits for the various publications.
The importance of doing the research and getting to know the target market of each publication.
How she determines which projects are portfolio-worthy.
The roles of her two employees.
How she promotes her business and gets her name out there.
Using a vision board to create inspiration, when your portfolio is still small.
Some tips to gain confidence, when starting out as a designer.
Her opinion about working for free, for friends or family, when starting out.
That transparency is a huge part of how she runs her business.
Her plans for the month of May, and some of her short-term plans for the future.
The changes in her business model that Lynn is planning.
Links: