Barclay Butera- Mix Talent + Opportunity + Business Savvy = Epic Interior Design Business
Episode 122 of A Well-Designed Business
®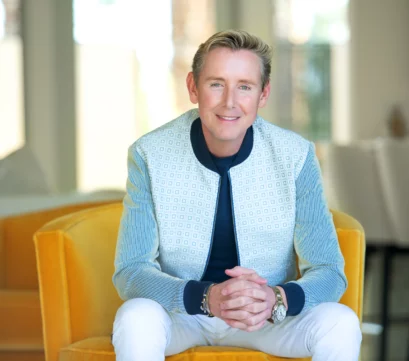 I am happy to tell you all that I have Barclay Butera on the show today!
Barclay Butera is the creative force behind the Barclay Butera design firm and the showrooms located in New Port Beach, California, West Hollywood, California, Corona Del Moore, California and Park City Utah. Butera is renowned for his approachable elegance and glamorous coastal chic interiors. His passion for interior design began two decades ago! You will learn today how it has grown into an impressive lifestyle enterprise that in addition to his interior design business he also has licensing with some of the industries most respected partners including Kravet, Bradburn Gallery Home, Eastern Ascents, Highland House Furniture, Left Bank Art and several others. Not to mention he has five coffee table books.
Show Notes:
When did Barclay realize that he wanted to be in the interior design business?
How old was Barclay when he started his first business?
Was Barclay organized enough that his second location was as successful as his first?
How many designers does he have working for him?
How is the company set up?
Is there a management program or does Barclay oversee everything?
How does he handle things at corporate if he is not present at the corporate office?
Who handles the licensing for his business: Barclay Butera Interior Design?
What is it like to work with Kravet?
What happens at the different showrooms?
How many projects does Barclay Butera Interior Design company do a year?
What kind of system does he have to work up the ranks?
When does Barclay have time to write five coffee table books?
Why did Barclay decide to write a book?
What would be his advice be to someone who wanted to accomplish as much in business as he has?
What would he say is something that he has seen that prevents a company from running well?
Resources: