Creating Multiple Marketing Platforms for your Business with Heather McManus
Episode 01 of A Well-Designed Business
®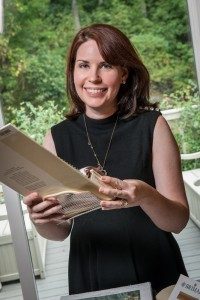 In episode 1, LuAnn Nigara sits down with Heather McManus. Heather recently wrote a book and she created a video course. These 2 additional channels have created passive income to supplement Heather's successful design business. She's here today to share with us exactly what she did to make this all come together.
On our show today is dynamo Heather McManus! She is the owner of Artistry Interiors! Heather has been doing interior design for fifteen years and has owned her own business for four years. She has also written a book called "Love Where You Live: Dream Homes Made Real" and is an associate in ASID. She is a very creative designer and has some great advice to share!
Heather's Bio:
Heather McManus, an associate ASID member, often has people hardly believe her design accomplishments since she looks so young. Heather has been Creative Director of Artistry Interiors for over a decade, transforming drab homes into fabulous and functional spaces. Having graduated from Pratt Institute in Brooklyn, NY Heather has the trained aesthetics and the industry experience needed for any project. Our design philosophy is "Love where you Live!" Your home should be a sanctuary from everyday life stress. We've created spaces that feel naturally personal, as if they have evolved over time. Clients continue to praise how stress free we make the whole design process.
Artistry Interiors goal is to make stunning homes that are a reflection of their clients' needs – whether it is a single room or an entire home. We create a time line to suit your immediate needs as well as long term plans.
I can't wait for you to hear how Heather is using video in her business!
In this episode we discuss:
Have at least a 30-minute conversation with a client before you meet them in person
The video series
Know if, when and where you need help
Process of her book
Have a positive attitude!
 The blog Heather created
Believe in yourself!
Resources Mentioned:
Heather's website: www.artistry-interiors.com
Heather's Book: Love Where You Live
Get in touch with Heather: info@artistry-interiors.com