Video for Creatives
THE POWER OF VALUE-ADDED VIDEOS • WITH ARIANNE BELLIZAIRE
3 Hours of Accelerated, Industry-Specific Education
Interior designers know that there is power in producing video content.
The problem is that the process seems intimidating and overwhelming. In this 3-hour intensive, you will learn how to think like a content creator, how to tie content back to your business goals, and how to use video content to set yourself up for better clients, better projects, and brand partnerships.
Chock full of case studies, tips to speed up your process, and strategy—this intensive will teach you to finally harness the power of video. Interested? Sign up for LuAnn's updates and early bird pricing!
The Magic is in the Actions You Take AFTER the Intensive
Within one day. Within one week. Within one month.
And Arianne is going to break it down into doable, precise elements. You'll leave with…
3 Actions for
The First Day
Quick wins. Essential steps for video production. Some low-hanging fruit. The 'do this now' advice from an experienced creator and teacher.
3 Actions for
The First Week
What's next to move the needle? What are the most strategic, efficient actions within one week of the intensive?
3 Actions for
The First Month
The big ones. These are the actions—big and small—that will make you look back on this intensive as a turning point.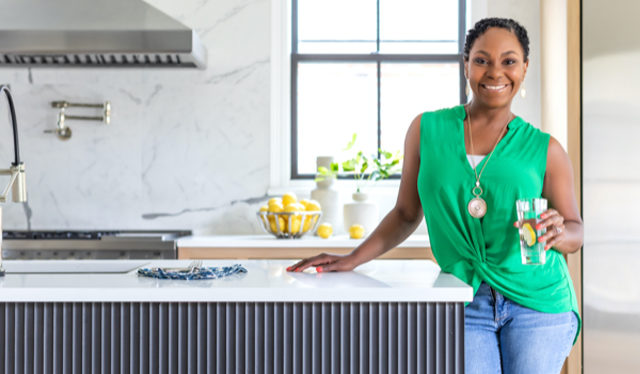 Award-winning, Baton Rouge-based interior designer and content creator Arianne Bellizaire has been named a High Point Market Authority Style Spotter (2015), Perlick Ambassador of Cool (2017), Villeroy & Boch Color Challenge Winner (2017), Modenus Blog Tour invitee (2016 & 2019), and Modenus DesignHound (Spain and London 2016, Surfaces 2018). Her work and expertise have been featured in Forbes, Rue Daily, House Beautiful, Good Housekeeping, Business Of Home, and USA Today.
As an interior designer and content creator, I have learned to leverage my understanding of the "language" of video.
This intensive is for the interior designer who is ready to amplify the work they are doing so that they can attract more of the types of clients, projects, and partnerships they want. You'll walk away with an understanding of…
Why video isn't so scary after all!
How to think like a content creator so that you can quickly and easily create powerful assets on the go
How to tie your video strategy to your business goals (more money, better projects, brand partnerships)
And much more…
Are you ready to learn more about how and why you should invest in video as a tool in your marketing arsenal?
What's Included?
THREE-HOUR INTENSIVE WORKSHOP: Expert instruction in a no-fluff, highly-structured format. Specific actions—for your first day, week, and month—because the magic is in the implementation.

RECORDED SESSION: Can't make the intensive? A recording will be available the next day! Simply log in to your account at luannnigara.com to access it. We will send you instructions.
Video for Creatives
THE POWER OF VALUE-ADDED VIDEOS • WITH ARIANNE BELLIZAIRE
Visit luannuniversity.com for updates on the upcoming semester!
FAQs
When do we meet?

We meet at 11:30am ET.

I can't make the date! What should I do?

No problem! A recording of the intensive will be available the next day.

Where do we meet? How long is the meeting?

We meet via livestream. Expect an email with instructions a few days before the intensive.

The meeting is three hours of live coaching with a 15-minute break and a combination of dynamic teaching (expect tons of real-world examples!) and live Q&A.

This sounds amazing, but what if I'm not satisfied?

No worries. If you're not delighted, then LuAnn and your instructor would definitely like to hear from you! Reach out within ten days of the intensive.
Is this intensive for you?
We're not a fit if…
You don't have the processes and procedures in place to support the influx of new clients who will come to you because of your video/marketing strategies.
You are terrified of even trying to create videos.
You don't have the time to start implementing some of the strategies you'll be learning in the course.
We're a great fit if…
You are ready to shine a light on the amazing work you are ALREADY doing in your design business.
You want to be strategic in the time you invest in creating video content so that you see tangible results.
You can begin to delegate parts of the process of video creation to team members or external agencies because you have such clarity on what the brand messaging and goals should be.

My messaging now targets the clients that I want to work with. I enjoy working on creating good content and am no longer afraid. I would recommend this course to folks who want to truly understand how to create video with a clear, concise message."

Arianne combined her background in marketing/communications and her interior design business savvy to create a course to help other interior designers create a clear marketing message. I am so appreciative of the knowledge, progress, and new connections that were made with Arianne's course. It was a time of inspiration and accomplishment."