Design for Construction 201
TAKE YOUR KNOWLEDGE OF CONSTRUCTION TO THE NEXT LEVEL • WITH KATHLEEN ANDERSON
This course will pay for itself—many times over—in mistakes not made.
Yes, you can become an expert in your field and learn the ropes of a very complex industry. And no, you don't need to make as many mistakes as I did. Construction, HVAC, lighting, plumbing, tile, and millwork…you don't need to learn everything the hard way.
If you know how to create a spec book and have a good handle on the interior design process for construction, but you're ready to take your knowledge to the next level and avoid costly, stressful errors…this course is for you.
The structured lessons are pulled directly from my years of experience. Over five weeks, you will learn how to craft your own pricing strategy, plan workflow, and develop profitability centers for new construction projects. Interested? Sign up for LuAnn's updates and early bird pricing!
A 5-Step Education in Design for Construction
How can you expand your scope by incorporating consultants? How do you figure out the hierarchy on a jobsite? Plus: An overview of construction schedules.
What are the responsibilities of the interior designer at this stage? How do you conduct a feasibility study (AKA trade day)? Plus: Setting reasonable client expectations for budgets.
What is an electrical walk and what should be checked? What is an HVAC walk and what should be checked? What are the responsibilities of the interior designer? Plus: HVAC design troubleshooting.
What is a plumbing walk and what should be checked? What are the responsibilities of the interior designer? Plus: Understanding the workflow between designer and contractor on plumbing and tile items.
How do you incorporate millwork into your business model? What do you need to know about millwork workflow? Plus: A Q&A session with Kathleen!
What were your biggest, business-changing a-ha moments? How are you taking action? Join LuAnn in picking up insights from every course and every department!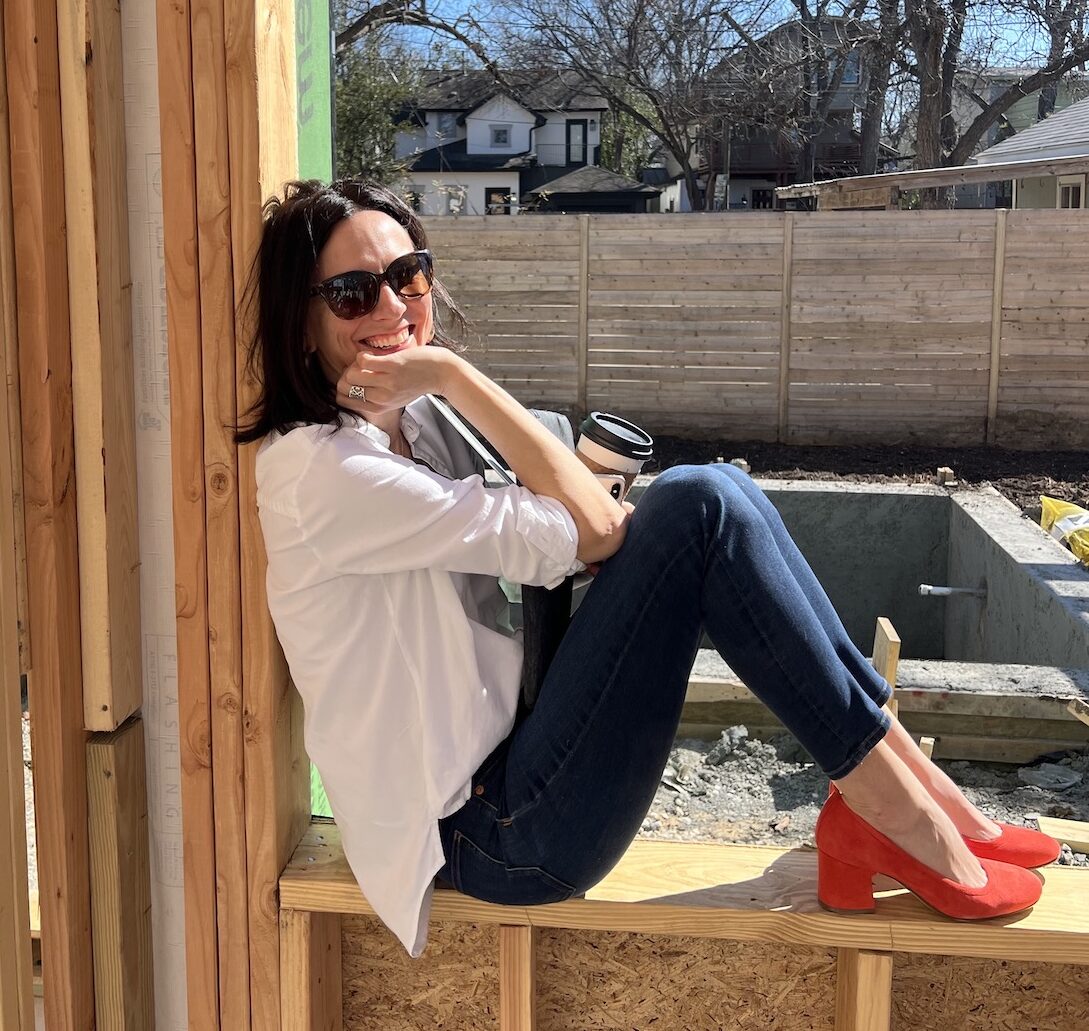 Kat has been on construction sites since 2006 when she started her first job as an on-staff designer for a spec builder. She has completed hundreds of projects and—despite holding a BA in interior design, earning her Masters of Architecture from the Universitat de Polytechnic de Catalunia, and passing the NCIDQ exam—she has still learned many lessons the hard way. Her mission? To teach you what she knows and help you skip the trial and error.
Design-build projects are complicated, but preparation and knowledge will allow you to bring exceptional service and expertise to your clients.
This course is about the details—knowing exactly what to check and how to communicate with other members of the team to deliver consistent results for every client. You will walk away with your very own list of design for construction deliverables and be able to turn that into:
A strategy for the project management phase of an interior design project
A pricing strategy
A budgeting strategy
A checklist of action items for electrical, plumbing, and HVAC jobsite walks
And much more…
From pre-construction to the final punch, learn how to confidently manage design for construction projects.
What's Included?
LIVE VIDEO COACHING CALLS WITH 5 SPECIFIC TOPICS: 5 weeks of 1 hour and 15 minute live zoom video coaching with 1 hour of your instructor teaching and 15 minutes of live Q&A.

PRIVATE CONVERSATION BOARDS FOR EVERYONE IN THE COURSE: Sometimes we need to try something or think about it further...and then we look for clarification. This group is for collaboration, victories and trouble-shooting. Your instructor, LuAnn, and your peers will deepen your understanding of the content.

RECORDED CLASSES: Can't make one of the classes? Recordings of each class will be available the next day! Simply log in to your account at luannnigara.com to access them. We will send you instructions.
Design for Construction 201
TAKE YOUR KNOWLEDGE OF CONSTRUCTION TO THE NEXT LEVEL • WITH KATHLEEN ANDERSON
Visit luannuniversity.com for updates on the upcoming semester!
FAQs
Where do we meet? How long are the meetings?

We meet each week via livestream. Expect an email with instructions a few days before your class begins.

Each meeting is one hour and fifteen minutes of live coaching with a combination of dynamic teaching (expect tons of real-world examples!) and live Q&A.

I can't make one of those dates! What should I do?

No problem! Recordings of each class will be available the next day.

And don't forget the Conversation Boards! Your instructor will be there each week for additional Q&A and more opportunity to understand the concepts. Even if you are in a different time zone, you can sign up and get full value from this course.

This sounds amazing, but what if I'm not satisfied?

No worries. If you're not delighted, then LuAnn and your instructor would definitely like to hear from you! Reach out within ten days of the last meeting.

Tell me more about the Conversation Boards...

Your instructor will be checking in on your Conversation Board at least a few times a week to answer any questions that you post. You will also be able to interact with your classmates, continue discussions from your sessions, and share wins as you put your new-found skills into practice.


What are the dates and times of the course meetings?

We meet on Thursdays for five weeks at 11:00am ET.
Is this course for you?
We're a fit if…
You love checklists, process, and structure and want to learn how to incoporate those into your design for construction projects.
We're not a fit if…
You need to learn the how-tos of how to put together a spec book or elevations. (For that, check out

Design for Construction 101

next semester. And yes, you can take this class first. These two classes ARE complementary and don't necessarily have to be taken in order!)

I really appreciate how prompt, professional, and factual Kathleen is with her answers. She is a credit to her profession."

Kathleen is awesome. She saved me time, money, and heartaches. The only thing I regret is that I can't ask for her input on every decision in my life!"