For years people have been saying that "video is where the magic happens"…
But how do you begin? In this course, Arianne teaches you how to harness the power of video so that you can easily and consistently create marketing assets that will level up your business!
You'll learn about messaging, positioning, and communication in ways that will help you set a firmer foundation for your business as you attract more and more of your ideal clients and projects.
Chock full of case studies, tips to speed up your process, and strategy—this course will teach you to finally harness the power of video. Interested? Sign up for LuAnn's updates and early bird pricing!
Yes, You Can Create Strategic Videos
What videos should you create? How do you sprinkle videos throughout your client experience? How can you communicate your secret sauce? Plus: Examples of successful internal and external video assets.
Tuesday, April 19th at 3:30pm ET
What are the elements of effective scriptwriting? How should you be thinking about your visuals? Plus: Arianne's templates for three effective video scripts.
Tuesday, April 26th at 3:30pm ET
What tools do you need? What makes "on the fly" videos powerful? How can you instantly give your videos a boost of energy? Plus: Arianne's secret to looking so polished on camera.
Tuesday, May 3rd at 3:30pm ET
Why is batching the key to consistency? How can you plan for your shoots? What happens on shoot day? How can you prep for editing or outsourcing the editing?
Tuesday, May 10th at 3:30pm ET
How do you identify key players and script templates for pitching to brands? How can you position video deliverables as a valuable marketing asset? Plus: The backstory of Arianne's 25-year-old home renovation project.
Tuesday, May 17th at 3:30pm ET
Join Arianne for a "hot seat" round of critiquing videos submitted by students. Learn from real-life examples! Plus: A Q&A with LuAnn Nigara.
Tuesday, May 24th at 3:30pm ET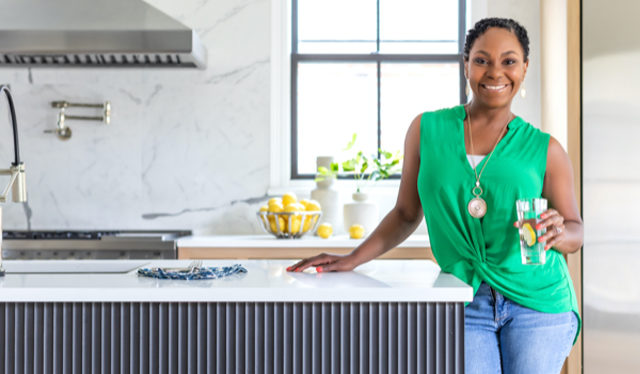 Award-winning, Baton Rouge-based interior designer and content creator Arianne Bellizaire has been named a High Point Market Authority Style Spotter (2015), Perlick Ambassador of Cool (2017), Villeroy & Boch Color Challenge Winner (2017), Modenus Blog Tour invitee (2016 & 2019), and Modenus DesignHound (Spain and London 2016, Surfaces 2018). Her work and expertise have been featured in Forbes, Rue Daily, House Beautiful, Good Housekeeping, Business Of Home, and USA Today.
As an interior designer and content creator, I have learned to leverage my understanding of the "language" of video.
This course is for newbie designers, seasoned design professionals, and everyone in between! Strategic, well-made videos will improve your bottom line. You'll learn…
How to create the videos for specific contexts—on your website, social media accounts, and in pitches for brand partnerships.
Why video is such a powerful tool and how to identify ways to quickly and easily incorporate it into your marketing plan.
Real-world examples of how I generate revenue from my videos in the form of booked consultations, residential contracts, and commercial project bids.
How I leveraged videos to garner enough brand partnerships to renovate an entire house!
And much more…
Are you ready to learn more about how and why you should invest in video as a tool in your marketing arsenal?
What's Included?
LIVE VIDEO COACHING CALLS WITH 6 SPECIFIC TOPICS: 6 weeks of 1 hour and 15 minute live zoom video coaching with 1 hour of your instructor teaching and 15 minutes of live Q&A.

PRIVATE CONVERSATION BOARDS FOR EVERYONE IN THE COURSE: Sometimes we need to try something or think about it further...and then we look for clarification. This group is for collaboration, victories and trouble-shooting. Your instructor, LuAnn, and your peers will deepen your understanding of the content.

RECORDED CLASSES: Can't make one of the classes? Recordings of each class will be available the next day! Simply log in to your account at luannnigara.com to access them. We will send you instructions.
Video for Creatives
The Power of Value-Added Videos
KICKING OFF TUESDAY, APRIL 19TH
Visit luannuniversity.com for updates on the upcoming semester!
FAQs
Where do we meet? How long are the meetings?

We meet each week via livestream. Expect an email with instructions a few days before your class begins.

Each meeting is one hour and fifteen minutes of live coaching with a combination of dynamic teaching (expect tons of real-world examples!) and live Q&A.

I can't make one of those dates! What should I do?

No problem! Recordings of each class will be available the next day.

And don't forget the Conversation Boards! Your instructor will be there each week for additional Q&A and more opportunity to understand the concepts. Even if you are in a different time zone, you can sign up and get full value from this course.

This sounds amazing, but what if I'm not satisfied?

No worries. If you're not delighted, then LuAnn and your instructor would definitely like to hear from you! Reach out within ten days of the last meeting.

Tell me more about the Conversation Boards...

Your instructor will be checking in on your Conversation Board at least a few times a week to answer any questions that you post. You will also be able to interact with your classmates, continue discussions from your sessions, and share wins as you put your new-found skills into practice.


What are the dates and times of the course meetings?

We meet on Tuesdays for six weeks at 3:30pm ET.