Which LU Course Is Right For You?
Is it time to invest in yourself and your goals?
Is it time to get next-level help so you can create the business you've imagined?
I want to help you decide which action is the best action for you—whether you're a
brand-new entrepreneur or a seasoned business owner.
Do you understand your finances, Quickbooks, and how to record and manage your money?
I love it!
Do you also have a handle on the next level of your finances? The CFO level, where you can confidently make strategic decisions from an informed financial perspective?
High five from me to you!!
Do you and your senior and junior designers know how to set, track and analyze the profitability of each project?
Do you feel like lately, even though you are a really good designer, most days it feels like you are always fighting fires?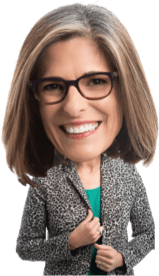 Are you a window treatment professional who needs help in scaling your business or scaling teams within your business?
Do you want to know how the highest earning, highest producing window treatment sales professionals reach the levels they do?
You know video and visibility are where it's at in marketing these days but do you want to know what you should do, how to do it, and what works and what doesn't?
Do you run your day, your business, your time? (Or does it run you?) Do you wonder "When will it all click? When will I feel like I'm running the lunatics and they're not running me?"